DO U know what is the cause of variation in love between a husband and women,
.
.
.
.
.
The number of children they destroy together.
Man, u get things more clearly than those clean jokes. :P
Yeah so people,
on the floor, come and get some more,
yeah i have lost my brain,
NOTE: brain, yah the one in my skull,
not BRAINS. :P
hahahahahahahahha,
till now i dodn't knew i have a brain,
hahahahah, but i knew i had brains,
i use them more than my brain,
OK, now my lame thing starts,
and ends,
and i push it in a KHADDA,
(ditch),
and then i slipped and into the khadda, and and and
woke up from sleep,
see, i told ya, i have lost something i never had (brain)
SO what happened?
the common question,
ya i am smart,
SMART se yad aya:
(from smart i remembered)
Have u ever thought, that would have happened if calculators were built with an ability to calculate smartness?
Yeah that would have been awesome for you,
no not for me,
why!!!!!!
COS, it would have shown the "limit reached" sign, for my smartness.
ssssssss, ARROGANT. :D
MAN!!!! back to the story of what happened,
yeah, today morning, i was like in the bathroom, washing my face, yah i do watch this ugly pumpkin daily,
and its like my hobby to wash my face with eyes open and i as usual applied the soap to my face, and started rubbing it,
NOTE: today is monday, and as usual on monday mornings i am in illusions, delusions and dilemmas,
So my mind was somewhere i don't know and i was rubbing my cheeks, all of a sudden the soap went into my both eyes,a nd i was like
aaaaaaaaaaaaaaaaaaaaaaaaaaaaaaaaaaaaaaaaaaaaaaaaaaaaaaaaaaaaaaaaaaaaaaaaaaaaaaaaaaaaaaaaaaaaaaaaaaaaaaaaaaaaaaaaaaaaaaaaaaaaaaaaaaaaaaaaaaaaaaaaaaaaaaaaaaaaaaa
I turned around don't know why, and as my luck hates me,
i banged my head into edge of the door, which was half open,
and i fell on the ground, hitting my hip and now i am
HIP-less too.
and it was so bad, i just can't tell you,
my ass hurts every time i sit.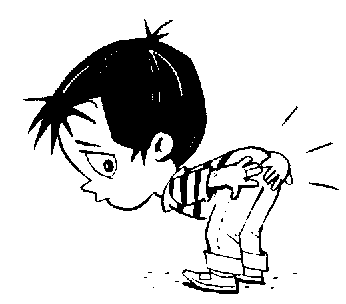 spanked, :(
and have u heard this quote:
"a bad start makes the whole day a bad one".
No, u haven't
me neither,
but if you do hear it,
well u won't cos its not correct even, cos my day was good today,
cos i figured out, even i had a brain.
the result of not paying for things, muftey mein itna hi milta he :P
OMG, i fogot but how,
lol, glad i remembered it at the right time,
this is what happened with my friend few days back when he was in a restaurant:
He said,
"I was sitting on my chair, enjoying my meal, suddenly i felt fart coming in, it was so urgent that i didn't had time to stand and go to washroom,
i had an idea, the music was loud, and every one was busy with their meal,
i timed my fart with the beats of the music,
when i was done, i looked around as a victorious guy but instead everyone was staring at me,
i was like What happened,
this was when i remembered that i had earphones plugged in my ear,
Hahahahhahahaha, horrible but funny,
hahaha, that was epic wasn't it,
and the truth here,
I MADE THAT JOKE MYSELF COUPLE OF MONTHS AGO,
did u laugh on it,
NO,
then:
Now don't smile and think that u acted smart to laugh on it,
and u know what,
the person facing diarrhea can't laugh out loud or sneeze,
cus if he would put exert pressure, he would dirty his pants. :P
Hope u weren't facing diarrhea while reading this,
i don't want u to curse me, while washing your pants :P
bwahahahahahahahhaah,
i just had great time writing this one,
and hey hey hey hey
wait,
so what's the next plan for blogger meet-up,
Barish ne is waley plan pe toh pani pheir dia,
kisi k pas koi plan, mail me up, i wanna badly meet u people.
and one more things,
1 more week and then EXAMS,
OMG,
and u know what
its the first time in my life, that i am waiting badly for exams:
no,!!! its just i am studying these days, yeah :D
Ok, before my mom gets into the room and throws my laptop in the dustbin,
Good bye folks,
hope u had a fun read,
and if not,
Lol u r fucked,
hahaha
that woyld be the:
its not near, it is THE END.
:D